Discrimination

✖ No protections

Employment Discrimination

Unknown

Housing Discrimination

Unknown

Conversion Therapy

Unknown
Public Opinion
"Should Society Accept Homosexuality?"
History
Single only
Adoption is being regulated by the Civil Procedure Code of Russia (Chapter 29); Family Code of Russia (Chapter 19); Federal Law On Acts of Civil Status (Chapter V). None of these documents contain any direct restriction or ban for homosexual people to ado
Current status
(since Jul 1, 2003)
Legal
Major-General of Medical Service Valery Kulikov stated that "the new statute about military and medical expertise from July 1,
2003
does not forbid people of non-standard sexual orientation from serving in the military." Also, in February of
2010
, Prime Minister Vladimir Putin stated in an interview that gays are not banned from serving in the Russian armed forces.
Current status
(since Jul 29, 2013)
No protections
Signed into law by President Vladimir Putin, the law on "propaganda of nontraditional sexual relations among minors" criminalizes public expression of support for nontraditional relationships.
Current status
(since Nov 15, 1997)
Legal
Transgender people are able to change their gender on identification documents after being issued a document from a health institution confirming the surgical requirements.
Current status
(since Jan 1, 1997)
Current status
(since Apr 16, 2008)
---
---
---
Latest News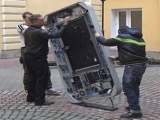 ---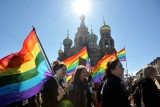 ---
---
Search Interest
LGBT Rights in Eastern Europe